Expansion Pilot
We accelerate and de-risk the process through our expansion pilot program. The expansion pilot gives you a head start in the new market with the goal to test and validate your financial and performance hypotheses. Low sales turnover, unexpected costs, uninspired customers? We will make sure to remove the roadblocks and deliver the numbers you need to make a solid business case.
Setting up the business in a new country is expensive. You rent office space, hire people and build your marketing and sales infrastructure. Just getting started is likely to cost you 100.000 EUR in the first 6 months but it takes at least 12 months before there is clear evidence for market entry success or failure.
Leaving the success of your product up to chance is NOT the way to go.
In July 2019, a coffee brand, decided to take a closer look at the German market, knowing that the German coffee market has high potential but is also highly competitive. We engaged with 50 cafés, 20 co-working spaces and 50 offices in different Berlin neighborhoods and talked to > 100 people, of which many industry experts, key influencers of the local coffee scene and many coffee-lovers. The insights were guiding to the strategy that was laid out after. Although the German coffee market is competitive, there is not yet a coffee brand combining high quality coffee with radical impact. Our client is sure to capture a niche.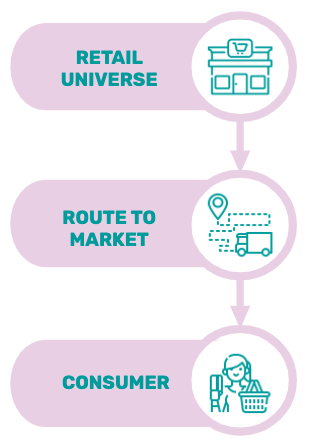 In order to get a picture of the complete market we will examine the country´s retail universe, uncover route to market options and dig deeper on the buying behaviours of the conscious consumer.
Our deliverables encompass:
Outlet, Partner and Channel Validation & Recommendation
The target group and buying behaviours/habitual analysis
Identification of consumer feedback via survey tools and in store testing
Quantitative Data Analysis (Surveys)
Marketing and Sales
KPIs based on Market Validation
Case Studies & Best Practices
Sales Playbook
Target Group Profiles
Challenges and Mitigation Strategies
We provide you with actionable recommendations of specific marketing activities that we can pursue in market to build stronger engagement and drive competitive advantage relative to current in-market competition relevant to the market rollout.
How do we do it?
Our approach is different from business as usual because usually, a market entry decision is made before the market is entered and as the strategy is developed, numbers rather match the strategy than the market.
Instead, we advise to start lean, run a strong pilot with the right experiments and then make the final entry decision. With us, during the pilot, you are spared from investing in expensive infrastructure and human resources while we cover that and take action.
Our mission is simple: we´d like to help you make better decisions in bringing your products and services to market for a more successful businesses, and happier customers.
Why better decisions?
80% of businesses fail at growing. Be it startups that scale, seasoned companies that launch new products or that decide to enter new markets. Growing a business is and has been a challenging process full of bias.
Let's learn from the past to create the future.