What's the article about: A 30 minutes transcript of a virtual panel discussion on innovation in retail, the role of certificates and sustainable consumption. The complete recording of the panel (in German) can be watched on our Expansion.eco Youtube Channel.
Dive in the discussion within this 7 minutes read.
In the USA and Great Britain, "Certified B Corps" have long been indispensable in food retailing and drugstores. Most recently, Albert Heijn, the largest Dutch supermarket chain, has also discovered B Corp for itself and opened the B Corp shop (online) at the beginning of 2020.
What is the potential of B Corp for retail in Germany? Does B Corp help on the way to sustainable shopping at the point of sale? Or are consumers already overwhelmed with information? What role does retail play in the sustainable change in consumer behavior?
In a virtual panel discussion, Shai Hoffmann talked with Daniel Duarte from koawach, Kay Bukmaier from happybrush, Marc Widmer from Danone Waters, Vanessa Kuth from The Organic Food Consultant and B Leader Karry Schwettman about the potential of B Corp for the retail sector in Germany. 
We transcribed and edited parts of the panel, which took place on the 18th of May 2021, to give you a first reading impression of the stimulating discussion. The complete recording (in German) can be watched on our Expansion.eco Youtube channel.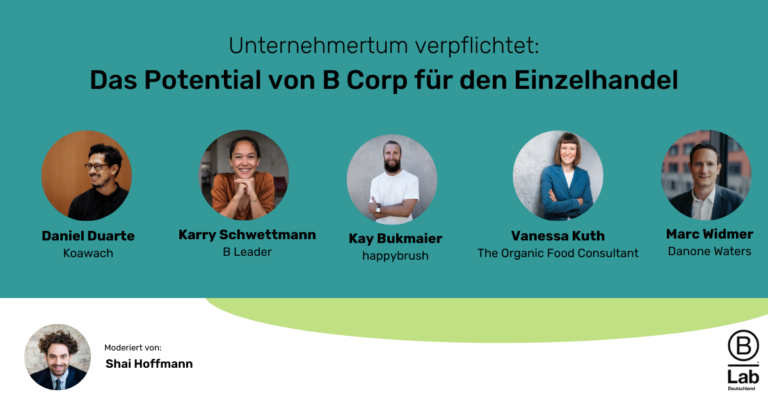 Panel Transcript (ca. 30 Minutes)
Shai: Daniel, you started koawach in 2014, you are Fairtrade certified and cooperate with ClimatePartner. What has kept you from becoming a B Corp so far?
Daniel: For us as a company, the first step was to work in a stakeholder-oriented way with consideration for customers, employees, the environment and especially suppliers. First of all, it was important for us to tackle the well-known topics of "organic" and "Fairtrade" (especially with regard to cocoa) and later the topic of CO2 neutrality. There, we initially chose the seals that the retail and the customer already knew. In 2014, when we started, B Corp was simply not yet that well-known in Germany. But that doesn't mean we can't still become one :).
Shai: After all, we are talking today about the potential of B Corp for retailers and that assumes that retailers recognize the potential of B Corp. Kay, you (happybrush) are a very young B Corp company – what is your perception as Head of Sales when you go out and try to place happybrush with retailers or get a listing? Is B Corp recognized as an added value? And do you see any benefits as a result?
Kay: We became B Corp certified last August, proud as heck of course, and then went right out with this great message. I also discuss the topic of B Corp with all customers and it is always included in presentations. What quickly came to light was that there were some contacts – buyers from drugstores – who didn't even know about the certificate. So we still have a lot of pioneering work to do, a lot of explaining and informing. Basically, we receive good feedback, but it is a pity that the label is still quite unknown. That means that at the moment it can't be used as an added value to get a listing, for example.
Shai: What do you think is the reason for that?
Kay: From my point of view it is the lack of awareness. On the other hand, the buyer still has other [financial] goals. It's often the case that other issues are more important, so we need to inform more what the added value of B Corp is, so that they give more weight to that and put it on the same level as the financial goals.
Shai: That leads me to Vanessa. We talked about how retailers need to recognize the potential of B Corp first. What does it take to communicate the canon of values to the shoppers?
Vanessa: I have been working as a buyer in organic wholesale for the last few years and the first criterion is "organic", then "Fairtrade". But then it is also the case that you get criticism from the consumers and the shop managers if a product is only "organic", but no further thought is given to it. Because who as a consumer wants to buy a product that is organic but comes from a company that pays its employees poorly? From that point of view, it is a criterion for the buyer that a product is "thought through". B Corp is not yet so well known, but I still see a lot of potential in it, because for me it combines the various seals and also makes [impact] measurable, transparent and traceable. In my view, it would be incredibly important for B Corp to communicate even more strongly and make it more tangible. When I walk through a store, I want to know what's behind B Corp and what concrete good cause I can do when I buy the B Corp certified product.
Shai: And you relate that to the buyer or the customers?
Vanessa: As a company, you should never just think about "how to convince the buyer". If a product is only bought by the retailer, it doesn't mean it also gets sold to the customer. You have to think about "how to convince the buyer, the store owner, the employee who works on the store floor and of course the consumer". And that's where B Corp's stakeholder approach, which takes all of these into account, comes into play very well.
Shai: I imagine it's very challenging. I imagine, consumers being overwhelmed with just one seal, and when you say that B Corp is a "basket of seals," that's insanely complex to transmit. So I wonder, does that education happen at the point of sale or beforehand, through PR for example?
Vanessa: I think it's a multi-stage process. [Education] has to happen at the point of sale, of course, for example, through a shelf where only B Corp products are placed, which then creates a lot of attention to the B Corp topic. That's where even someone who's not familiar with it will ask what's behind it. If we look at how "organic" started in the 1980s and where "organic" stands today – you have to look at the development. You can say "it's not known yet", but then you also have to ask "what do we want to achieve?, how do we want to live in the world?".
Shai: Marc, what is the motivation for such a big player like Danone of becoming a B Corp? You could theoretically use any other label?
Marc: In the end, it's not about a seal, it's about what you want to be. It's about the attitude that – if we look back in history, which began in 1972 – our pre-pre-CEO already formulated: it's not just about shareholder value, about economic goals, but also about social goals. […] In 2019 we have been certified and now we are going into the recertification of B Corp certification. For this, we have to improve and make an effort. Not everyone who wants to become a B Corp passes the assessment. At Danone, we have a goal to be fully B Corp certified by 2025. We are currently 33 business units and about 50% of global sales come from B Corp certified units.
[…]
Shai: We're looking across the pond, to the UK. We're looking at retailers: Waitrose, Albert Heijn, and more recently [the drugstore chain] Boots . What are the retailers doing differently, or what is the retail sector in Germany not yet doing?
Karry: For context – Waitrose was the first retailer to decide to introduce a B Corp shelf in 2019. The cooperation was (is) very successful and led to the fact that another online retailer, Ocado, also introduced an online B Corp shelf. That's where a positive feedback loop comes in. The label on the product won't necessarily drive awareness of B Corp at the point of sale, but it will drive community. That includes such a measure as the B Corp shelf. When brands act collectively, it attracts much more attention than in that one brief moment when the shopper stands at the shelf and chooses a product. This positive feedback loop has even led to brands saying they want to become B Corp certified to increase the chances of listing, among other things. If we then look to the Netherlands and Albert Heijn, I think we're ready for it in Germany as well and it's only a matter of time before the time comes and German retailers realize the great potential of B Corp.